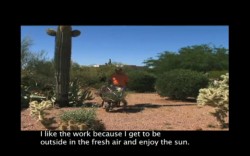 Barring any last-minute court action from one of the seven lawsuits levied against Arizona's SB 1070, the draconian anti-immigrant law that civil rights groups and law enforcement alike agree will promote racial profiling is scheduled to go into effect this Thursday.
Well, the American Civil Liberties Union has something to say about that. What they want to know is: Would you ask this man for his papers?
Brown skin. Spanish-speaking. Doing lawn work. Nothing says undocumented immigrant quite like those three characteristics, am I right? Watch the video.
[youtube=http://www.youtube.com/watch?v=-zUAO6Ig8Uk&w=610&h=303]

The kicker is that the "suspicious" hombre in question is Roberto Reveles, a U.S. citizen and the president of the Board of Directors the ACLU of Arizona.
I can only hope that, if SB 1070 goes into effect, a prominent person like Reveles gets stopped and harassed for his papers. Have you seen the West Wing episode where another Roberto, Supreme Court nominee Roberto Mendoza, gets wrongfully arrested for drunk driving based on the color of his skin? He had to back down and decline to sue the police department in the interest of the "greater good," so he could focus on making it through the confirmation process. That wouldn't be necessary in this case; if Reveles were detained, the ACLU would throw another lawsuit at Arizona so fast it'll make nativist heads spin.
Unfortunately, the many Arizona residents who are vulnerable to harassment and racial profiling under this law, citizen or otherwise, won't necessarily have the ability to stand up against violations of their rights. The ACLU, though, does have another cheeky suggestion for the everyday person on an Arizona street. Check out the video below.
[youtube=http://www.youtube.com/watch?v=LIREJLlAtaU&w=613&h=300]
Video credit: ACLU