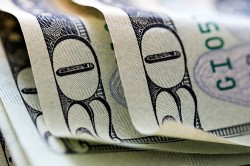 In case you thought you had a little more time before corporate sexism and the ol' boys' club kicked in and you hit an very thick glass ceiling, we have bad news for you. A new study by Catalyst, a nonprofit that monitors and works towards gender equity in the workplace, finds that a woman who gets her M.B.A. will be paid less for equal work from day one. What success!
Even with equal work experience to date, women in the same industry and geographic location earn nearly $5,000 less at their first job than men. As Jezebel puts it, "researchers have discovered that simply being male translates to more money and opportunity." In addition, more women are stuck in entry level jobs out of the grad school gate, while men are trusted with more responsibility. By starting out in a lower position, women will continue to lag on promotions and raises going forward. And it's not like there's a glut on women in business to begin with: M.B.A. programs are only about one-third female.
The Catalyst survey looked at 9,000 respondents who graduated from 26 different M.B.A. programs from 1996 to 2007. While defenders of the male-dominated corporate structure often claim that its women's decision to become mommies and not put in a full day's work that leave them behind on the pay and promotions ladder, looking at the discrepancies in men and women's very first job straight out of grad school, Catalyst finds that sexist gender stereotyping is the real culprit.
Photo credit: Unhindered by Talent